Quando Batman ha scalato il palazzo della regina in Inghilterra, per la prima volta nel mondo intero si e' iniziato a parlare del problema dei figli a cui viene impedito di vivere con il proprio padre naturale senza altro motivo che l'assenza di norme che tutelino un diritto fondamentale della persona. Da allora il movimento internazionale per i diritti dei figli alla pari genitorialita' ha continuato a sviluppare azioni non-violente per affermare nel mondo intero che i figli hanno diritti inalienabili - che nessuno stato ha il potere di calpestare.
Nel mese di Agosto 2006 la protesta radicale non-violenta sta raggiungendo apici non immaginabili in precedenza.
Come la protesta di Ghandi
ha determinato la costituzione dello stato Indiano, baluardo di democrazia nel terzo mondo, fa ora il giro del mondo l'azione determinata e pacifica di
John Murtari
- un italoamericano a cui genitori Calabresi hanno trasmesso tenacia e valori spirituali necessari per difendere i diritti civili
nella terra che ha dato origine alla moderna democrazia con la prima costituzione fatta dal "popolo". Ricordando i valori costituenti degli Stati Uniti d'America, John Murtari richiama il mondo intero alla difesa dei diritti fondamentali della persona, lesi sistematicamente dalle ingiustizie a cui e' soggetto il legame genitoriale nel mondo moderno.
Declaration of Independence: "We hold these
truths to be self-evident, that all men are created equal, that they are endowed by their Creator with certain unalienable Rights, that among these are Life, Liberty, and the pursuit of Happiness."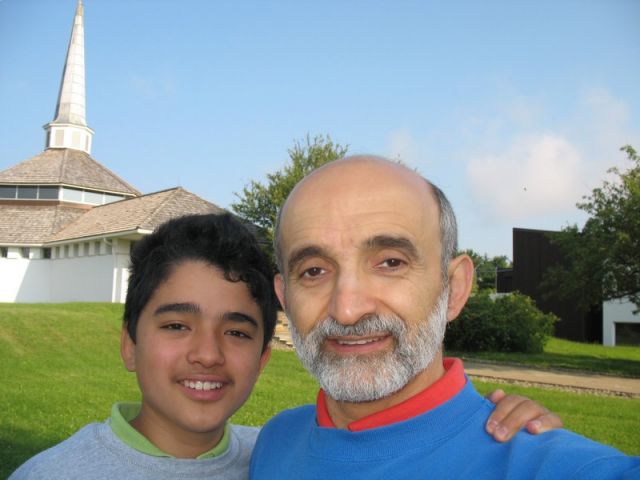 La societa' deve garantire in sostanza a
ogni figlio di v
ivere in modo equilibrato con entrambi i genitori, essendo la difesa della relazione con i propri genitori un supremo diritto della persona alla Vita alla Liberta' e alla Gratificazione.
"The Family Rights Act"
Americans have always held to the tradition that "Liberty" and "Life" rights deserve our greatest protections. In response to recent government activism over the past 40 years, we must now clearly recognize our right to associate with our children, to be secure in our homes. What greater and purer "Happiness" can there be in life than the relation between parent and child.
John Murtari ex-pilota dell'areonautica USAF poi ingegnere del sofware era stato licenziato su due piedi per aver segnalato illeciti commessi dall'azienda in cui lavorava. Dopo la separazione ha continuato a dedicarsi a suo figlio, nonostante la distanza e le ingiuste condizioni determinate dal giudice. Il figlio di John era stato costretto a trasferirisi dalla parte opposta degli Stati Uniti senza riconoscere gli oneri che suo padre avrebbe dovuto sostenere per mantenere una relazione equilibrata, nonostante un genitore che impediva ogni contatto telefonico senza motivo concreto. In aggiunta, il giudice ha ulteriormente gravato John obbligandolo a pagare per mantenimento una cifra calcolata sul doppio del suo salario reale, nonostante l'altro genitore non ne avesse necessita' alcuna, essendo ampiamente autonomo sul piano economico nel provvedere alle proprie responsabilita' genitoriali.
Di fatto John non aveva alternative: o vedere suo figlio o pagare.
Svilito dai commenti - chi gli diceva "John, non farne un dramma, paga e vedrai tuo figlio quando avra' 18 anni come tutti" nonostante fosse evidente l'ingiustizia ardua da raddrizzare anche per il miglior avvocato - John prese la decisione di lottare per i diritti civili, per cambiare il sistema non solo per suo figlio, ma per garantire a tutti i figli - indipendentemente dallo Stato in cui sono nati - il diritto a vivere con il proprio genitore direttamente riconosciuto e difeso dalla amministrazione Federale degli Stati Uniti. Vogliamo che questo diritto venga recepito anche dalla Commissione Europea e dal parlamento degli Stati sovrani appartenenti all' ONU e al G12.
Dopo aver fondato il movimento "
A Kids Right
" e aver continuato a difendere e manifestare le idee costituenti del movimento internazionale per la pari genitorialita' - un diritto civile dei figli - John e' stato oggetto di ordine di custodia e incarcerato mese di agosto. Per l'evidente inconsistenza delle accuse e per la assurda procedura giuridica che lo pone ingiustamente accusato a doversi difendere sostenendo l'onere della prova della propria innocenza - un gravissimo sopruso della liberta' - John genitore scrupoloso ha deciso di portare avanti una protesta radicale, rifiutando di obbedire agli ordini che non rispettano il diritto fondamentale della persona, praticando una resistenza non-violenta di totale passivita' nei contronti della prevalente autorita' pubblica.
John e' stato sollevato di peso e tradotto in carcere dove finalmente ha costretto chi ha la responsabilita' della sua vita a nutrirlo via cannula, essendo la sua azione di protesta fondata sul rifiuto di mangiare e di bere direttamente con una azione volontaria. In sostanza John vuole manifestare il totale e radicale rifiuto del sistema attuale, al quale non puo' e non vuole fornire la benche' minima cooperazione, consideramendolo distorto e contrario ai diritti del minore dalle sue fondamenta.
Nel mondo si sta sviluppando una
ola di solidarieta'
al pensiero e alla protesta di John Murtari, facendone l'icona mondiale della pari genitorialita'. Da una prima forma di protesta "coreografica" per fare notizia attivando il dialogo, ora la pari genitorialita' sta diventando un movimento ben radicato in tutto il mondo, riunendo tutte le associazioni per i diritti civili in una piu' matura e profonda battaglia per muovere tutte le persone che hanno responsabilita' istituzionali o in grado di comprendere e risolvere le contraddizioni di un sistema che palesemente non funziona, per dare garanzie sostanziali ai minori.
Questo il
messaggio dal carcere del 15 agosto 2006
con il quale John invita tutti i sostenitori a mantenere e sviluppare un dialogo pacifico fondato sull'amore per i figli.
Portare tutte le persone di buona volonta' a discutere e riflettere in modo approfondito e documentato sulla attuale ingiustizia e' il modo migliore di contribuire alla crescita mondiale del diritto.
Grazie John per il tuo sacrificio e per la serenita' pervasiva del tuo messaggio di azione. Invito tutti ad aderire all'appello di Teri Stoddard in sostegno di questa manifestazione mondiale.
Teri Stoddard continua a diffondere alla stampa mondiale tutte le
informazioni sulla battaglia civile per la pari genitorialita'.
"Please participate in the worldwide Day of Demonstration for Equal
Parenting and Vigil for John Murtari. Whether you're one individual or
an entire organization, everyone can make a difference."
Purple Ribbon Campaign for Equal Parenting
Come gesto di solidarieta' e' sufficiente fare una foto a un monumento o un albero a cui mettere un fiocco viola, per poi spedirlo a
teri stoddard
mailto: teri *at* akidsright *punto* org
john murtari on internet websites
teri stoddard
http://mensnewsdaily.com/2006/08/03
http://www.akidsright.org/support_jm.htm
http://disenfranchisedfather.blogspot.com/2006/08
http://www.ancpr.org/john_murtari_protest_lands_him_i.htm
http://www.associatedcontent.com/article/52668/john_murtari_receives_feeding_tube.html
http://albanysinsanity.com/?p=346
http://ancpr.com/blog/archives/402
http://groups.google.co.za/group/alt.support.divorce/browse_thread/thread/4b742736a26b5610/890db53e8e47cecf?hl=en
http://www.liamsdad.org/others/mutari/mutari1.shtml
http://www.associatedcontent.com/image/16364/john_murtari_receives_feeding_tube.html